Design
Preparation
Most of the garden was overgrown with (enormous) weeds so this had to be hacked back while trying to save a few plants (fruit trees and st john's wort were the only things that made it).
The weeds were just the start of it. See the
development page
for more information about the rest of the mess we had to remove before we could start thinking properly about a garden.
Ideas
Pretty
Reasonable maintenance level
Pleasant to be in (for us and the birds and creepy crawlies we like to watch!)
The first thing we decided to do was to grow climbers up the wall to soften the brickwork and also to discourage people from climbing on it (spiders definitely aren't discouraged).
Next we started thinking about the overall layout...
Initial sketches
The following (very rough) sketches are a few of the early ideas for the layout.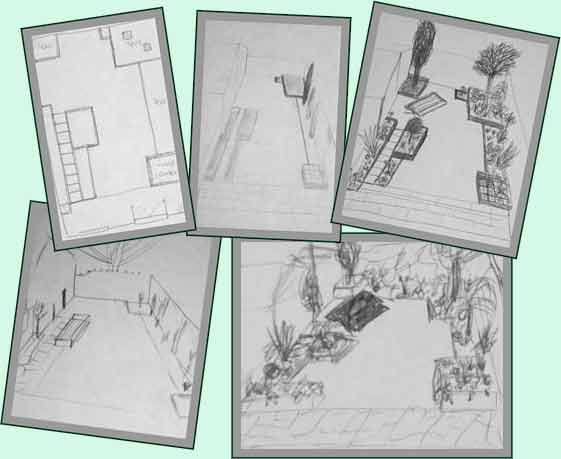 Early plan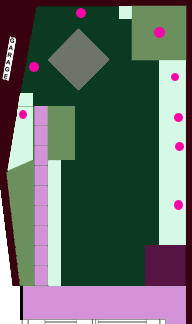 This is the layout that we first decided to aim for. At this stage we hadn't decided on the exact plants we wanted. We just had an overview of what we were aiming for.

Seating (picnic bench)

Border/Flower bed

Herb square

Paving

Prominant plant

Raised bed

Wall

Grass
Final plan
This is the plan we ended up with. Some evergreen plants so the garden stays interesting over the winter. A raised bed with bright colours in the summer. A little shady corner with a Japanese maple. A number of plants to attract birds, butterflies etc. We also managed to squeeze in somewhere to sit and some edible things.
We had to forfeit the planned path on the left when we found a grid hidden under a shed, gravel and a layer of concrete! We did try the seating area as it was on the early plan but the combined shade from the bench and the sycamore next door killed the grass (goo from the sycamore didn't do much for the bench either). The curved border evolved after we moved the seating area nearer to the house.
Key to curved border (top and left of diagram)

Spanish bluebell

Rose - pink (unknown variety)

Buddleja - black knight

Gooseberry

Cherry - fruiting

Apple

Raspberry
Damson
Key to raised bed (left of diagram - below curved border)

Fuchsia

Black lilyturf

Lobelia

Crocosmia

Marigold

Blue wheat grass

Honeywort

Gentian

Chrysanthemum

Carex

Honeysuckle

Busy lizzie

Golden-eyed grass

Gaillardia

Cotton lavender

Dianthus

Asiatic lily

Chocolate cosmos

Blue fescue

Phormium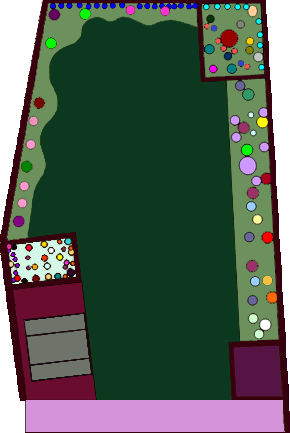 Seating (picnic bench)

Border/Flower bed

Herb square

Paving

Deck

Raised bed

Wall

Grass
Key to square (top right of diagram)

Foxglove
Rose - compassion

Bugle

Tulip

Borage

Jacob's ladder

Japanese maple

Sneezewort

Berberis - unknown variety

Lily of the valley

Grape hyacinth

Rose - white cloud

Silver shamrock
Key to border
(right of
diagram)
Heather

Juniperus

Lavender

Blue poppy

Pyracantha
saphyr yellow

Hebe

Cupressus

Rose - guinee

Periwinkle

St John's Wort

Pyracantha
saphyr red

Yellow flag iris

Pyracantha
saphyr orange

London pride

Buddleja - white (unknown variety)